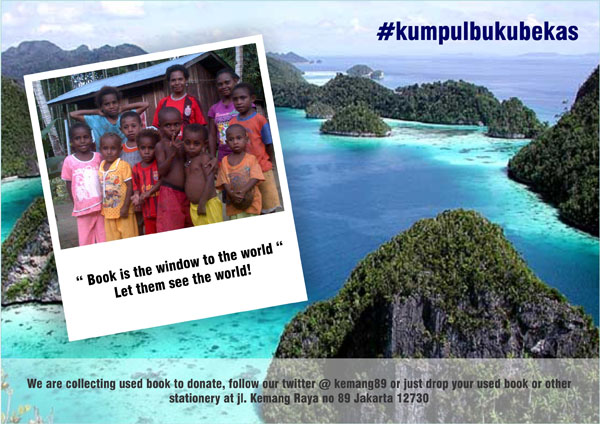 Dalam Rangka Mensupport Program TNI " Peduli Anak Bangsa", Kami Kemang 89 beserta teman2 bermaksud menyediakan wadah pengumpulan buku bekas dan alat tulis untuk anak-anak di Papua.
Program Peduli Anak Bangsa ini mencakup beberapa aktivitas yang sedang berjalan seperti Pengajaran di sekolah-sekolah di desa terpencil di Papua yang ditinggalkan oleh Gurunya, Pemutaran Film-film Tanah Air, dan juga Puskesmas Keliling.
Untuk itu, kami ingin mengajak semua teman-teman untuk mensisihkan waktu, untuk mengumpulkan buku-buku bekas, buku tulis dan alat tulis bagi anak-anak Papua ini. Let them see the world, because Book is the window to the World.
Buku-buku dan Alat tulis dapat dikumpulkan di "Drop Area" di gedung kami di Kemang89, jl. Kemang Raya no 89. Jakarta Selatan.
Setelah buku-buku terkumpul, akan kami salurkan langsung ke TNI dan akan segera dibawa ke Papua.
Tidak ada limitasi waktu yang kami berikan, karena kami akan terus mensupport Program ini.
Akhir kata, Terimakasih atas antusias dan bantuan teman-teman semua.
Selamat Memberi. "Somebody Else Trash is somebody else's Treasure "